---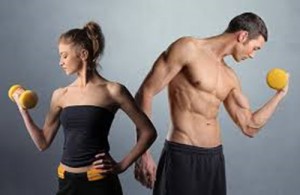 Trenbolone is a 19-nor steroid and is derived from the compound nandrolone. The difference between it and nandrolone are the c9 and c11 double bonds. The c9-10 double bond is the reason that trenbolone has no estrogenic activity. This bond is necessary for the aromatization of the A ring to be possible and by occupying this bond, no aromatization can occur.
Trenbolone can affect muscle growth in several different ways, making it one of the best compounds for both maintaining and adding quality muscle mass. First, trenbolone can greatly increases the level of IGF-1 within muscle tissue. It also causes muscle satellite cells, those responsible for repairing damaged muscle fibers, to be more sensitive to IGF-1 and other growth factors. The amount of DNA per muscle cell may also be significantly increased by using trenbolone1 .
Trenbolone has an extremely strong binding affinity for the androgen receptor as well, even surpassing that of testosterone. This of course supports the assertion that trenbolone is extremely anabolic as by binding to the androgen receptor a compound is able to activate the anabolic mechanisms that are dependent upon the androgen receptor, one of the many ways that anabolic steroids aid muscle growth. Like most other anabolic steroids, trenbolone also increases nitrogen retention in muscle tissue. However a rather unique characteristic of the drug is its anti-catabolic abilities. Trenbolone binds with the receptors that interact with glucocorticoid hormones, these being catabolic hormones3 . By being able to inhibit cortisol and some other catabolic hormones in the body trenbolone is ideal for those users that are attempting to reduce body fat as the compound will help to minimize muscle wasting when running a calorie deficit.
Like other steroids that are extremely androgenic, trenbolone offers several advantages for a user. First, due to the androgenic nature of the drug a user can expect a large increase in their strength. This makes the compound extremely popular with strength athletes. However bodybuilders looking to reduce their body fat also find that trenbolone can help them achieve their goals as well. This ability to help in the reduction of body fat stems from the drug's affinity for binding to the androgen receptors. These androgen receptors are located in, among other places, fat cells. When these androgens bind to the androgen receptors they can affect these cells and increase fat-burning. When this is combined with the fact that trenbolone has a cortisol reducing effect along with the ability to bind to the glucocorticoid receptor, it can be understood why this compound is so highly touted for dieting and the reduction of body fat4 .
As for the ester of trenbolone acetate, acetate is a relatively short-chain ester. It has an active life of two to three days. Ideally a user would use daily injections to keep blood levels of the compound fairly stable, however injections every other day will suffice. The acetate ester provides a rapid and high concentration of the hormone which is beneficial to those seeking quick gains, and coupled with a rapid clearing time the acetate ester can be discontinued on the onset of adverse side effects without having to wait days or even weeks for it's effects to diminish.
Dosages for users are highly dependent on how they react individually to the compound. Many users anecdotally report that side effects are minimal if doses are kept at certain levels but can turn rather harsh if doses are increased even slightly. For this reason it is important that inexperienced users start with low doses of the compound to judge their reaction to it. 50mgs per day is often cited as the standard starting point for most. However doses even lower than this, such as 75mgs every other day, are used by some with good results.
---
---
---
---